Exams finished! Anton, Terry and I completed our very last exam on Friday and then Anton dutifully presided over Russian-style celebrations that started with a formal series of toasts and then migrated to a different location for more partying until late at night. It also happened to be Halloween night and Sasha, our manual docking instructor, even carved a "42" pumpkin for us as a present!

https://twitter.com/AstroSamantha/status/528562638851440640

So we are ready to meet our spaceship in Baikonur on Nov 12th, after some rest time here in Star City and the traditional visit to Gagarin's grave on the Red Square next week.

Everything is going according to schedule. Because many have been asking: our departure for ISS is in no way affected by the Antares mishap earlier this week, that led to the loss of the Cygnus resupply vehicle. It's been of course very unfortunate and a reminder that spaceflight is a difficult and risky business, but no life was lost and the cargo can be replaced, thanks to the robust and highly redundant logistics chain of the the Space Station. So, as we like to say on Expedition 42, Don't Panic!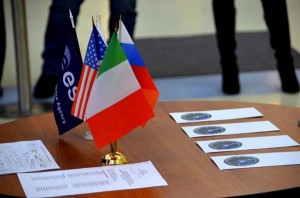 By the way, the mishap also was an opportunity for me to be reminded, once again, of the incredible dedication and professionalism of the human spaceflight teams around the world: when I woke up to the news in Star City, I immediately wondered what the impacts would be. But I only had to look in my inbox: many emails had already arrived and many more would come in throughout the day detailing for us what was lost, what the consequences might be and in many cases even what the recovery plan could look like. It's just been amazing to see all the teams reacting so fast and making sure that they kept us informed and reassured.

One of the people who immediately got in contact with me was my ESA Mission Director, Alex Nitsch, who is the person ultimately responsible for the ESA mission objectives, in particular science operations in Columbus. In this guest post on the Blue Dot blog you can see his take on "the day after":
http://blogs.esa.int/alexander-gerst/2014/10/30/orbital-mishap/

This might not be obvious but, as you can see from Alex'  words, one of the most immediate concerns is to redefine priorities and, accordingly, to rebuild the crew schedule. The crew got a normal weekend off-duty, instead of capturing and berthing Cygnus and, when the working week starts tomorrow, they will be on a new activity timeline. Last-minute rescheduling is not an easy task and I'm sure a lot of people have been working evening and nights: there is always a lot to do onboard, so it's certainly not a matter of finding things to do, but all the constraints and interdependencies have to be considered!

Also, make sure to read Alex' words on "trash and stowage choreography": not the first thing you would have thought of, ah? 

As for "my" luggage, there was nothing too personal on Cygnus. The little box I could fill with personal things, like extra socks and some outreach items, is already on ISS: my fellow ESA astronaut Alex even sent a picture of it from orbit to reassure me! And the mementos that have been entrusted to me by friends and family will fly with me on Soyuz. Cygnus did carry clothing for us for the later part of the mission, but there is time to resupply that (and we even have spare clothing on orbit just in case). All my bonus food containers (9 boxes) are also already on orbit and, regarding regular ISS food, there is many months worth of it already stowed on Station!


Picture: signing the envelope with the failures list for our exam (Credit: NASA/Stephanie Stoll) 
More pictures on Flickr: www.flickr.com/photos/astrosamantha/
03/11/2014